To curate a one-of-the-kind Southeast Asia experience, Timbre X S.E.A will see partnerships with renowned Southeast Asia F&B brands serving up collaboration dishes or some of their signatures on our menu for a limited time.
Timbre X S.E.A kickstarts the series on home ground with Timbre X Hawkers, partnering with four Singapore hawkers brands and spotlighting their stories and pride through three collaboration dishes and one cocktail on the menu from 12 November 2020 to 11 February 2021.
[UPDATE: Due to popular demand, the Timbre X Hawkers menu will be extended till the end of March 2021!]
Join us in celebrating them with The Sambal Lobster Roll, using the fiery Sambal from Jiao Cai Seafood, De-constructed "Har Cheong" Chicken Tortilla featuring Ah Tan Wings' addictive shrimp paste marinate, Coffee Sauce Kurobuta Pork Loin Burger with Foie Gras showcasing the aromatic coffee sauce from Wok In Burger by Keng Eng Kee Seafood and Kopi-O Fashioned concocted with Nanyang Cold Brew from Kopifellas.
Reserve your Timbre X Hawkers experience today.
---
Jiao Cai Seafood – Fiery Sambal Recipe Since 1982 Helmed By 2nd-Gen Hawker at Yishun Park Hawker Centre
Old Mr and Mrs Chew brought the recipes and cooking skills from Malaysia to Singapore and improvised on both for the past 38 years; they may also be one of the few who started serving Sambal BBQ Stingray on hotplates in Singapore. In 2017, their son, Zhi Jie decided to join the family trade and has been bringing his family pride to places. Here at Timbre X S.E.A, we use their fiery sambal to put a twist to the classic lobster roll.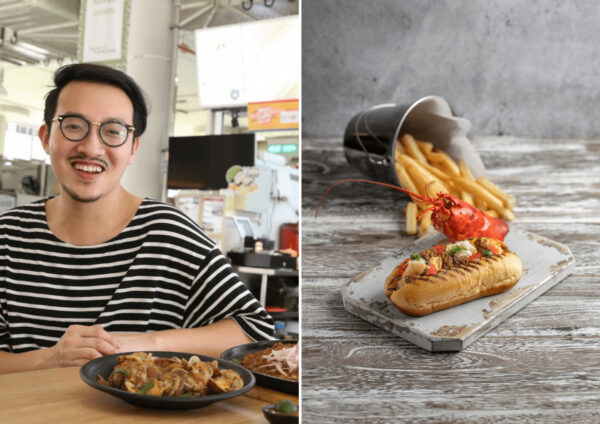 Photo credit: Todayonline
---
Ah Tan Wings – Gen Y Hawker Selling One of The Best Har Cheong Gai in Singapore
Tan Wei Yang loves his Har Cheong Gai so much that he decided to make it his career at 25 years old and opened Ah Tan Wings. The menu focuses on Har Cheong Gai (Shrimp Paste Chicken) and that is enough to send customers queuing and the chicken selling out early. The pungent fragrance of shrimp paste fills half the hawker centre whenever the frying happens, making it the best way to whet one's appetite. Here at Timbre S.E.A, we send their secret shrimp paste marination on a Mexican adventure.
Photo credit: MissTamChiak
---
Wok In Burger by Keng Eng Kee Seafood – Zi Char-Burger Offshoot By Third Gen of Michelin Plate Zi Char Joint
Other than running operations and helming the kitchen of the Keng Eng Kee (KEK) Seafood, Paul Liew and Wayne Liew spent the past few years building Wok In Burger. What started as a staff meal and an attempt to present zi char dishes in the form of burgers in 2017 has become the business breakthrough for the brothers. The zi char-burgers use KEK Seafood's sauce recipe and each one is made with zi char cooking technique as well. Here at Timbre X S.E.A, we layered a few more flavours and texture atop of their Coffee Pork Burger.
Photo credit: Michelin Guide
---
Kopifellas – Making Nanyang Kopi For The Fellas Who Love To Drink It
Kopifellas wants to be the reason why you like traditional local coffee. With a keen interest in traditional coffee and wanting to meld the contemporary with traditions, Terry Neo created Kopifellas. Possibly the only kopi stall to have arabica coffee beans in the mix and roasting the beans using Nanyang method, customers get to enjoy high-quality coffee at an affordable price. Here at Timbre X S.E.A, we reinvent a classic cocktail with their Nanyang Cold Brew.
Photo credit: mynicehome.gov.sg