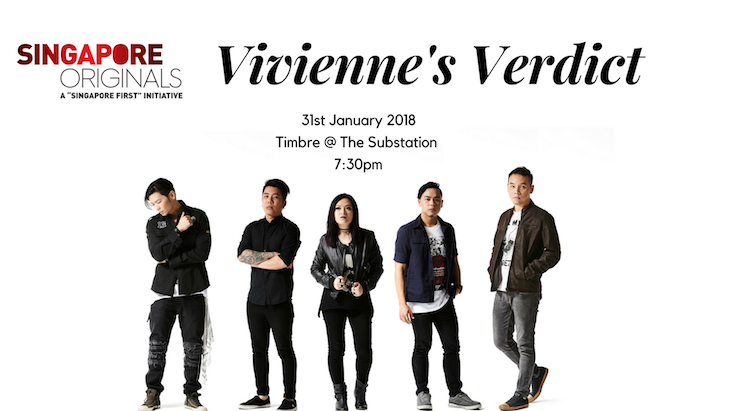 Come catch Vivienne's Verdict as they perform live at Timbre @ The Substation on 31 January 2018 at 7.30pm
Vivienne's Verdict is a Singaporean hard rock band formed in 2009 by vocalist, Dezimon and bassist, Reuben. Originally conceived as a cover band, Vivienne's Verdict shifted to originals within its first two years.
The band released a single titled 'Hurricane' which premiered exclusively on Bandwagon. The single also featured a Japanese version of the track. After the release, Vincent (guitarist) left the band to focus on his family.  
The current lineup consist of Kurenai (vocals), Jay Direwulf (guitar/programming), Fiq (guitar), Reuben Verde (bass) and Jasper Carnivore (drums). 
With the success of the fan-favorite song, Monster, the band had the opportunity to work closely with Monster Energy drink in Singapore. Within the same year, the band returns with a second single titled 'Chase' which will be released in December 2017, following a promotional tour to Tokyo Japan. 
Vivienne's Verdict's sound conceptualises a modern alternative interpretation of hard rock fused together with electronic soundscape elements, combining clear, powerful vocals, wailing guitar harmonies, rhythmic bass lines, pumping, groove-driven drums and lyrics depicting life struggles. Vivienne's Verdict is bent on delivering an explosive electronic hard rock music performance.